How a hunter plans | Cam's next Roar
Cam has hunted extensively over the Southern Alps and Central North Island over the past decade. Here, he walks us through his planning process of his next Roar hunt and how comprehensive research of the area helps him feel confident going into the 7-day hunt knowing he is well-prepped for anything.
---
Guest Blogger Cam Forlong shares his planning tips to get ready for backcountry hunting this season.
---
Researching an area is probably the most important bit of planning before a hunting trip. I use the NZ Hunting and Shooting website for keeping up-to-date with general hunting chat. It is also a good platform for asking questions about anything hunting related, animals, areas and equipment.
Of note at the moment is that WARO helicopters have been doing very little shooting on the tops compared with pre-covid times. For me this presents a good opportunity to find a stag out above the bushline during the Roar. With this in mind, my approach this year will be an expedition style trip where we walk the tops along a planned route for 7 days. By staying highly mobile and moving camps often, we will cover a vast amount of country and increase our chances of finding a nice stag.
Once I've decided the region I want to hunt I move onto studying topo maps and satellite imagery on Google Earth. The topo map quickly shows me the type of the terrain I'm heading into and the challenges likely to arise. Below is a typical Southern Alps tops hunting environment, I can see the bushline is at approx. 1100m and the open country above this is very steep and exposed in places with scree dominating the higher faces.
I then like to focus in on the contour lines of the tops and identify potential routes that could be used to travel around the area, paying close attention to how close the contours get along the route. I'll often give the area a search on the Climb NZ website. They have detailed descriptions of routes and their difficulty for much of the NZ backcountry.
Drawing the potential routes onto the map like I've done in red below helps to visualise the options available and then look for possible campsites, water supply and vantage points for glassing from.
---
During the trip
Other people/ Target ID
It doesn't matter where you're hunting during the Roar there is a good chance there will be other hunters in the area. We've all heard the expression "Identify your target beyond all doubt," But what does it really mean and why how do incidents involving identification occur? When I'm looking at an animal through the scope I run through a mental checklist much like the MSC poster. I want to know the age of the animal, if it has antlers how many points does it have? Is it aware of my presence? Is it about to run away or is it settled? Running through this list slows the mind at a time when excitement and nerves can be very high.
If the animal is settled and not looking at me, my first reaction is to try to get a photo of it. Live animal photos are far more meaningful to me than dead ones.
Once I've identified the animal has the age and antler type I'm looking for I ready the rifle and take a shot.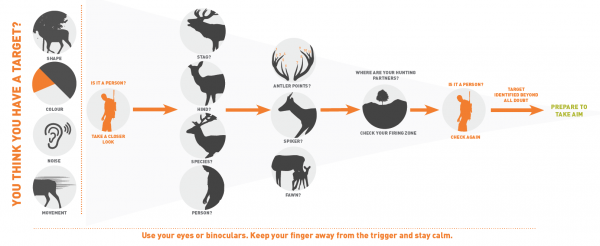 Weather
Almost every year we get a southerly system come up the country during April that brings freezing wind and snow that blankets the mountains, and every year there are hunters who get caught out by these "wintery" conditions. Obviously, leading up to April it is the tail end of summer and most regions in NZ experience very pleasant weather, this can lead inexperienced hunters into a false sense of what their Roar trip might be like.
I now take all of my winter alpine gear with me during the Roar: down jackets, balaclava, thick gloves, and depending on the terrain, ice axe and crampons. I've learned that if you carry this gear around and don't require it then that's great but when you do need it, you REALLY need it and you'll be glad for carrying it.
I use the MetService 5-day rain radar for checking the forecast before I leave on a trip. It gives you a good feel for what weather systems are moving across the country and the level of wind and rain you'll likely get in your area. For updated forecasts throughout the trip a satellite communication device such as a Satellite Inreach is the best option.
Know your limits and stick to them
Knowing your limits and sticking to them is good general advice for anyone heading into the backcountry. However, it's not to be confused with "taking it easy". As the first part of it suggests you need to 'know your limits'. This is only learned through time spent out hunting the hills experiencing the physical and mental challenges.
I take this message as: Prepare myself with knowledge of the area and safety equipment (GPS, Personal Locator Beacon (PLB) and survival kit as a minimum) then get out there and incrementally build the difficulty and duration of my hunts. I really enjoy the process of growing my experience and skills, as I do so the limit of what I feel comfortable in is always changing.
Several years ago climbing to the tops without a track and camping up there for a weekend hunting was a great challenge for me and I loved it. Nowadays I thrive off the fitness, navigation and weather challenges of a week long expedition-type trip as I have planned for the Roar this year. The key point here is to not be afraid of pushing yourself but do it incrementally over time.
A major aspect of knowing your limits and sticking to them is making good decisions with regard to particular hazards. I'm talking about river crossings and very steep or icy terrain where technical climbing skills are necessary. If it feels out of your depth and uncomfortable then consider another option, turning around is ALWAYS an option.
The below image shows a small side creek in Lewis Pass after a few hours of rain. We had walked up here the day before, zigzagging our way up the creek not thinking for a moment that we would have any trouble coming down. Although the creek isn't excessively deep in this photo, the speed of the flow and large boulders hidden beneath the dirty water made it uncrossable. In this instance we were fortunate that sticking to one side of the creek and sidling above gorges got us all the way out although it turned a 3 hour walk into 8 hours.
Thanks for sharing your tips Cam!
As you can see there are plenty of places to pull your resources together and build a solid plan that suits your trip. We hope this has helped beginner hunters to learn about options out there, or even enlightened some more experienced folks to see what else there is to know about preparing for New Zealand's backcountry.
Read how his trip went in his follow up story here.
Continue your learning