Making magic with Macpac | Behind the scenes of filming
Two New Zealand-made organisations met in Hakatere Conservation Park on a hot summers day, with the ambition to create a set of how-to videos to support keen adventurers in their outdoor adventures. This is where our story begins.
---
Tell us more about these ambitious folks then...
Well, the non-profit organisation since 1965, NZ Mountain Safety Council (MSC), and the outdoor gear company since 1973, Macpac, joined forces to film this project as part of their existing Outdoor Safety Retail Partnership. Both companies have enjoyed the success of video as a medium to illustrate the power of New Zealand's outdoors.
The MSC crew that met in the Mt Somers carpark to film the first season's videos, were Rebekah, Tom, Marli and Ros fresh from carrying gear up summits on their recent filming trip of the Mt Somers Track and, of course, Jared of Quite Nice Films, a talented Wellington-based videographer who has been a major part of MSC's film work. Later on in the scene enters Nathan, their inspirational leader, who flew down from the North to help make the magic happen! The Macpac team that joined the troops, zoomed over from their base in Christchurch. Holly and Allie, designers and keen outdoorsy folks, were 'packed' with knowledge about the various gear from their warehouse and of course how to make them work to their best ability.

---
So what are these videos about?
They are called the MSC x Macpac 'How to' videos to be shared far and wide so people perusing a local Macpac store or looking for help online, can get their questions answered. As always with MSC's projects, the topics covered are the result of evidence-based research from their insight work, identifying leading causes of key incidents in the NZ outdoors. The videos are available to watch on YouTube and social media, so have a look.
This is an ongoing partnership, so stay tuned for season two.
---
How do you make it happen?
A key thing is the vast knowledge and passion from all involved. It not only takes experienced outdoor people in the team, but also designers, writers, snack providers and of course the people who design the gear itself to work together – they really had all sorts of team members combined and had a great day out.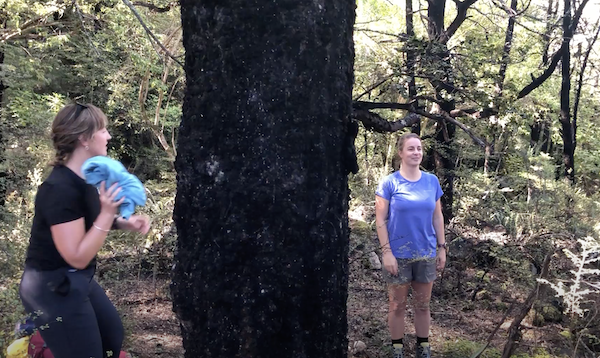 With the scripts in hand, they set off into the stunning Hakatere to shoot the awesome features that essential pieces of equipment can do in the outdoors. There was quick changing of clothes, climbing into thick sleeping bags in the summer heat, posing for shots literally on a wasps nest and lots of laughs, all for the good of safety of course. These snippets of content are then worked together through Jared's incredible videography skills back in Wellington.

---
What did you all learn?
Well it was hard to think of it as a day at the office really, in the back blocks of Canterbury in outdoor gear in the sunshine, but this is all part of the charm of working in this business. That reconnecting with the outdoors to make messages come to life and work them together for fellow keen adventurers is a pretty special thing. It also brings forward a lot of 'upstream' work from both organisations, the many sources of data collected to identify interventions required for safe outdoor experiences as well as the incredible design development that goes on in the Macpac factory to make the gear to get you out there and make it home again to repeat the adventures both in Australia and New Zealand.
Everyone (both on the project and beyond) is excited for the future of outdoor recreation. There are more folks giving it a go, exploring their backyard and thirsty to learn how to do it right – these videos are hopefully just the ticket to get there. Bring on season two!
---
Watch more of our videos on our Watch page here
Check out our kiosks in their stores