Outdoor safety messaging accolades goes to MSC
Safety messaging

isn't always

sexy,

but

our small team here at the Mountain Safety Council (MSC) has proven it can be done having recently wrapped up a busy awards month. MSC had two websites named as finalists in the Best Awards, winning a bronze award for one of them. In the same week the TVNZ

NZ

Marketing Awards were held in Auckland and MSC was a finalist in the Not-for-Profit category.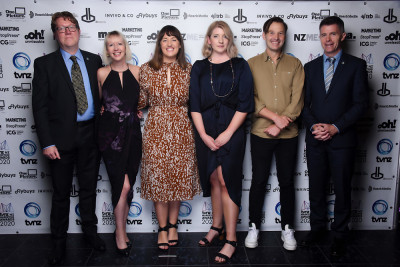 Despite the wild year we've all had, more people are getting out into nature and enjoying the amazing outdoor recreation opportunities NZ has to offer. It is our job at MSC to help people have safe experiences in the outdoors.
Earlier this month we were awarded a bronze medal for our New Zealand Avalanche Advisory (NZAA) website design and also named as a finalist for our Covid-19 Outdoors website at the Designers Institute of New Zealand Best Design Awards.
Our Operations Manager Nathan Watson said it was amazing to be recognised for our work to improve the safety of people in the outdoors
"Our approach of improving safety places people at the centre, everything we do is driven by clear evidence and we're always thinking about how we can engage participants in the most effective way, so they take on board the advice and use it when they most need it."
New Zealand Avalanche Advisory – Bronze Award
When we were rebuilding the NZ Avalanche Advisory our objective was to provide what can be a complex topic in a simple and easy to use way.
"There's a really diverse group of people who enjoy recreating in the backcountry, with varying skills and knowledge, and we needed to provide a resource that works for them all," Watson said.
Working with Somar Digital, MSC's digital product partner, the design utilised target audience surveys and user feedback to make sure it was fit for purpose and achieved the needs of those who relied on the information it provides.
"Engaging the alpine community in this process was essential, with their input alongside the technical expertise of our forecasting team we were able to create a solution that works so well, and that's been reflected in our award," Watson said.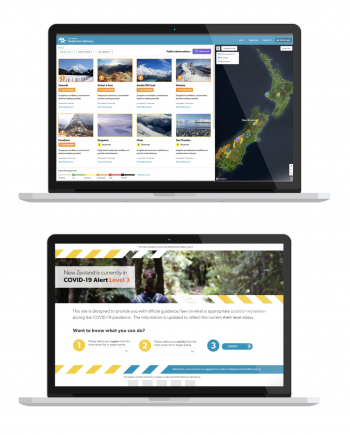 Covid19outdoors.nz – Finalist
Like all organisations, when COVID-19 arrived our world changed and, in many respects, those first few weeks were about survival mode. One of the biggest questions we asked ourselves was: how can we help people understand what they can do in the outdoors?
"We identified a clear need. We could see our community online asking the question 'what's the rules, what can we do?' but in those early days there wasn't anything specific to their needs," Watson said.
"The purpose was to build a website that would clearly and simply communicate acceptable outdoor recreation during COVID-19, therefore our aim was to provide an easy-to-use hub that was relevant to people's specific situation," Watson said.
The website was a new concept, and something similar did not already exist.
Time pressure fuelled the new site which was launched within ten days – from concept to launch. This was possible due to the huge support from a range of partner organisations, in particular Water Safety NZ who lead the development of the water-based content, and of course the team at Somar Digital.
Duck Shooting Safety Campaign – Finalist
Our hugely successful safety campaign, 'Let Old Habits Die, Not Your Mates', encouraged duck shooters to re-think their firearms behaviour during the 2020 duck shooting season. The TVNZ NZ Marketing Awards 2020 named the campaign as a finalist in the non-for-profit category.
"Historically we've seen firearms incidents every duck season and each one of those has the potential to end someone's life, but it doesn't have to be that way," Watson said.
The campaign, which uses an emotive story of a father and son shooting ducks from their maimai, achieved incredible results given the limited budget and challenging timeframes associated with COVID-19.
For the first time since 2004 (when reliable records started) the 2020 duck shooting season ended without a person being shot by themselves or another hunter.
Watson says he is immensely proud of the MSC team and the high-quality work that is consistently being produced.
"Despite being a small team, I think we punch above our weight when it comes to making a difference.
"These awards are a really great way to get that external validation and see how we compare across sectors."