Planning to do the Old Ghost Road? Here is how
As one of the

Great Rides

of New Zealand, the 85km-long Old Ghost Road is Aotearoa's longest single-track backcountry trail, and one of the most incredible multi-day backcountry experiences in the country. The adventure takes riders and trampers back in time along a shared-use and long-forgotten goldminers' road.
Our new ride-through safety video highlights these varied conditions mountain bikers can expect, covering important tips including how to pack a balanced bike, a suggested packing list, the common risks and hazards, and outlines key decision-making points and pit stops.
This impressive trail weaves through ancient forests, river gorges, and up and over diverse and rugged alpine environments. When combined with challenging weather; heavy rain, strong winds, snow, and freezing temperatures – any of which can occur in the height of summer, the Old Ghost Road epitomises a true backcountry adventure.
The Old Ghost Road comes with its challenges, but we have identified the best places to stop (south to north route), take a break, refill your drink bottle, enjoy the surroundings, check the weather, and regroup.

1. Packing your bike
A key part of your preparation is having a well packed and balanced bike. There are plenty of options for carrying your gear, but in general, we recommend only putting lighter items on the front of your bike. This is a perfect spot for your sleeping bag.
You can store heavier items in a frame bag or on the back of the bike where it will have less influence on your bike's handling.

If you're wearing a backpack, keep it light and try and limit it to items you will use throughout the day.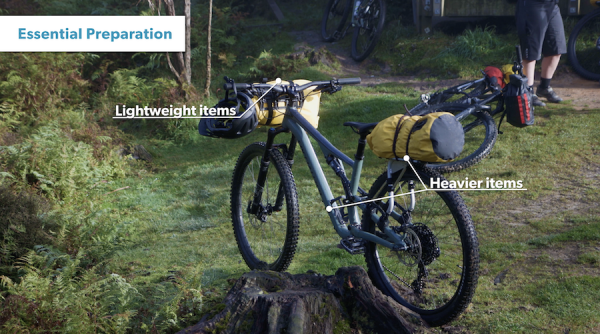 2. Gear list essentials
Prepare for all conditions by taking warm and waterproof clothing. There are short sections of mobile phone reception in the first 30km of trail (from the southern end), but a distress beacon is still an essential item. An emergency shelter and survival blanket are also essential to wait out any severe weather, flooding, or an injury that requires waiting for a rescue. Carrying and knowing how to use a repair kit that is able to fix any foreseeable mechanical failure is essential. There's an excellent suggested gear list on the Old Ghost Road website.
3. Check the weather
The Old Ghost Road can be attempted year-round, but severe weather can be an issue at any time of the year. Snow and ice may be present during winter months, making exposed and elevated sections of the track hazardous.
In most conditions, the trail is okay to ride in the rain and wind, but you'll need to be prepared to walk exposed sections when it's really windy. If in doubt about the forecast, be prepared to turn back and wait the weather out.
The Old Ghost Road spends more than 15km higher than 1000m above sea level, so it's possible to experience heavy rain, strong winds, snow, and freezing temperatures, even in the height of summer. There's a 50% chance of experiencing some level of rainfall on any one day, with over 40 days per year experiencing significant or prolonged rainfall. The average daily summer temperature sits around 8 to 16 degrees but expect large temperature variations with the seasons and elevation changes, including stifling temperatures in the low and exposed sections of trail.
4. Start early
An early start each day is highly recommended so you can enjoy the trail and have plenty of time to reach your chosen destination and cope with unforeseen events. The range of terrain can mean some sections may take longer than others. Many exposed sections have been fenced in but take these at your own pace and walk any parts that you are not comfortable with.
5. Share the trail and stay together as a group
Both trampers and cyclists share this wonderful trail, so remember to be courteous, stay in control, signal your approach, give way when appropriate, stick together as a group, and always try and acknowledge others' who are also out to have a great experience.
Watch the Old Ghost Road video here for a ride-through covering important tips including how to pack a balanced bike, a suggested packing list, the common risks and hazards, and key decision-making points and pit stops.