The Packing Problem with Kids | Family Tramping
Brought to you by MegDrive at megdrive.com
We've got a problem. A problem that could lead to serious consequences. At our house, packing for day walks is haphazard. Over and over again, we've forgotten the one thing we needed to make the trip safe and comfortable. The worst part is that I know better.
---
It's the New Zealand Mountain Safety Council's Get Outdoors Week on 16th to 24th November 2019. I'm excited to collaborate for #GOWeekNZ and share some tips and tricks for family tramping in New Zealand. Let's start with the day walk packing problem.
Don't get me wrong, when preparing for a trip, we do a lot right. We find out about the destination, the track conditions, and any warnings. If we're unfamiliar with the area, we check with
DOC
or the local authority. We consider the group and their ability to complete the mission. For a particularly challenging trip, we plan multiple outings progressing in difficulty to improve everyone's readiness. We check the weather many times in the week leading up to the trip and in the morning before we leave. We tell someone where we're going, when we'll be back, and what to do if we don't return at the appointed time. But when it comes to packing, we're not doing very well. On average, we forget at least one essential item 100% of the time.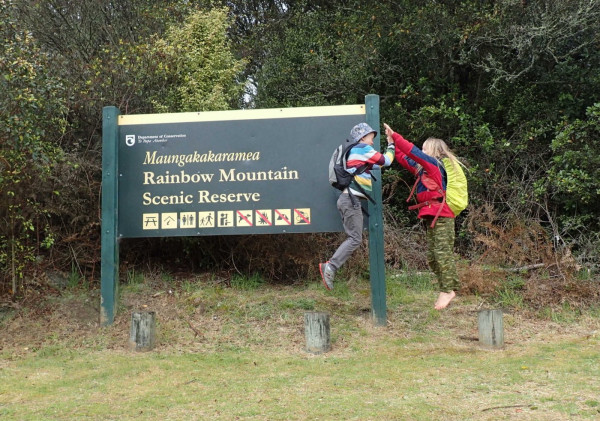 The other day, we headed up Rainbow Mountain with four children (5, 6, 9, 10) and two adults. Rainbow Mountain is on the North Island of New Zealand between Rotorua and Taupo. It's not a technically difficult track. There are no water crossings and few exposed areas, but it does involve a gentle, steady uphill for 3.5km. It's a solid day walk for young children and less fit trampers.
We'd been checking the weather forecast all week and the morning we left was no different. Cloudy periods. Southwesterlies easing by evening. High 14C, low 4C. The kids packed their lunches, water bottles, and sun hats. In honour of our destination, we also coordinated our wardrobes. Between the six of us, we planned to wear red, orange, yellow, green, blue, and purple, effectively bringing our own rainbow to Rainbow Mountain. In truth, we spent more time preparing to be colourful than planning to be warm and dry.
As often happens in New Zealand, the forecast was wrong. After driving for over an hour, we arrived at the carpark and it began to rain heavily. Two of the kids had rain jackets, not because of careful packing, but because they were stored in the car. I had a rain jacket only because it was my designated colour, orange. So half of our group was missing a waterproof layer and that wasn't the only thing — Dan (9) forgot his shoes.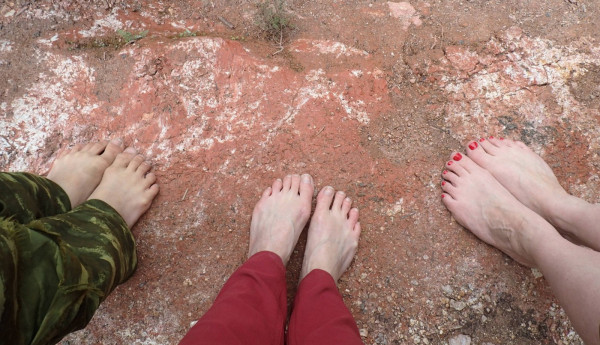 After much anticipation and the long drive, we felt invested in doing the walk, despite being unprepared. We took stock of the provisions we had brought with us and reassessed the conditions. All of us had layers of clothing that are warm when wet (polypropylene, merino, and/or fleece) and it wasn't cold or windy in the carpark. A true Kiwi, shoeless Dan prefers to be bare footed. Though he professed to have genuinely forgotten his shoes, he confessed that he'd rather walk the track barefoot. The responsible adults decided the best way to monitor the bare foot conditions would be to join him. So we set off to complete the 7km return trip in the rain, three of us without a raincoat and three of us with bare feet. Because it was overcast, four of us left our sun hats in the car. We began walking and the sun came out. As we walked, it alternated between hot sun, cold rain, and biting wind in exposed sections of the track. We were unprepared for all three of these conditions.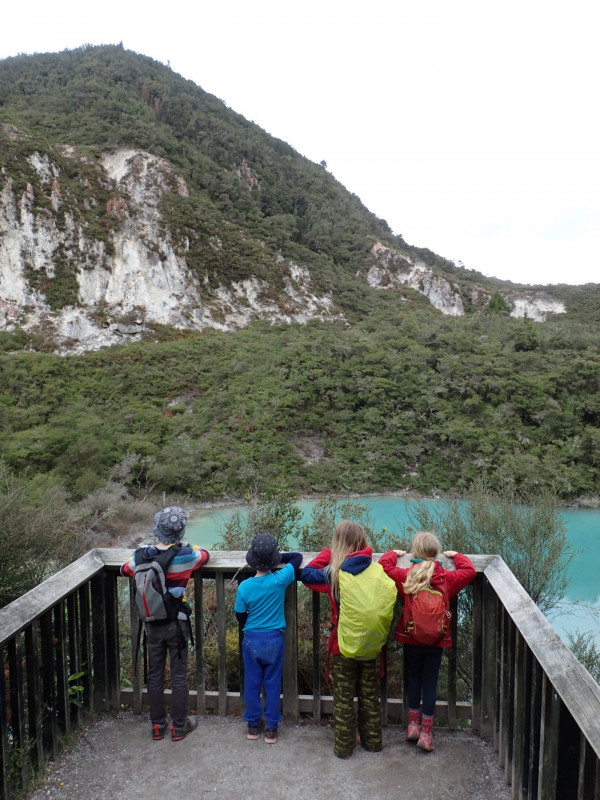 As I tiptoed over the areas of track with small, sharp rocks, I pondered our persistent problem of forgetting things on day walks and came upon the solution — put the kids in charge. Unlike the adults in our crew, my children take suggestions as rules, follow recommendations, and even police others. A couple of years ago, I took a photo of all our overnight tramping gear laid out on the floor. Now when we go overnight tramping, my kids use that photo to check, double check, and militantly remind each other to pack everything in the photo. So with this revelation, I introduce the day walk photo packing checklist. You can use it yourself, but for best results give it to the children. For those that can read, there is also a traditional
checklist.
Along with
this video
from the New Zealand Mountain Safety Council, you'll be sorted for packing for a day walk.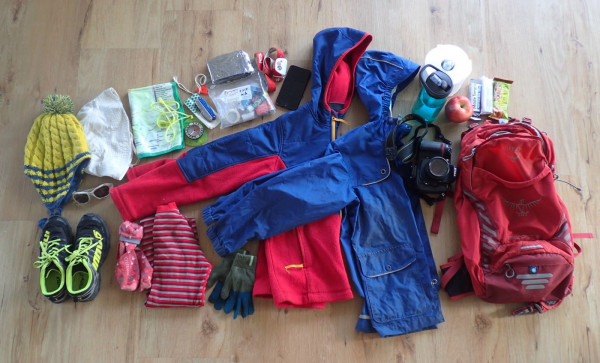 Despite being unprepared, we made it back safe and sound. I've shared this story not to celebrate foolish decision-making, but to highlight that human nature sometimes makes us carry on, even when we know better. This phenomenon is sometimes known as Summit Fever. Even more difficult than packing properly is turning back or changing plans before real problems set in. See the New Zealand Mountain Safety Council website for more information on planning your trip and #MakeItHomeNZ