The winter wrap-up 2020
As winter turns into spring, our Alpine Advisor Tom Harris reflects on the "strange" winter that was and what he got up to out on the beat.
To say this winter has been a strange one would be an understatement. There was a period during March and April when I was wondering what winter in the New Zealand backcountry would look like, and if we would even be able to produce avalanche forecasts. Fortunately we ended up having a winter of sorts and ski areas, guiding operations, and avalanche forecasting were all able to go ahead, albeit with some restrictions.
Some good snowfalls in July had me feeling, like many of you I assume, excited for an epic winter - perhaps one that would make up for the madness in autumn (Level 4 Lockdown). Mt Hutt ski field had one of its best opening periods ever and generally things were looking up for much of the South Island. Here at Mountain Safety Council (MSC) we had a strong start to our public observations for the season. A public observation is an online submission at avalanche.net.nz from someone in the backcountry who witnessed something interesting, such as an avalanche or snowpack conditions. At the end of July we were on track to double last year's total of 170 observations. As you'd imagine we were pretty ecstatic. Then August came, and the winter got even weirder. For the first half of the month, there was hardly any snowfall . . . anywhere.
This table shows the highest danger rating applied for each day across all 12 avalanche forecast regions. There is a lot of green (low danger) there, especially in the first 17 days. This is something we would typically see in October, or even November. However, it seemed like spring in August!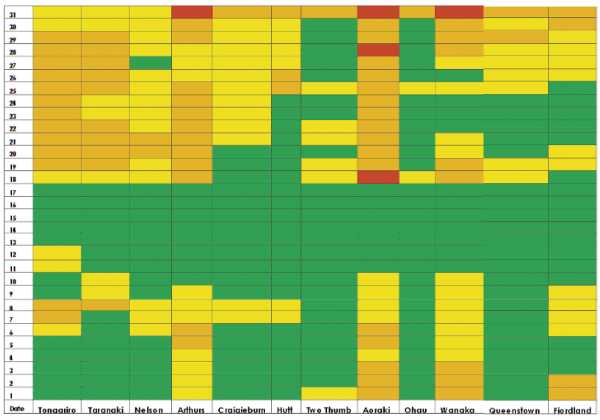 My partner and I were down south for two weeks in mid-August when a Craigieburn's clubbie field staff member said, "Don't look at the webcam!" I thought we might have to change plans! The trip ended up being a bit more of a tramping holiday than a skiing one, but I still squeezed in some days on the hill, catching up with the snow-safety teams at Coronet Peak and Treble Cone along the way. The silver lining was that the weather was fantastic! Fortunately, the snow arrived again at the end of August and brought winter back to life. This timed well with my last stop in Aoraki/Mt Cook and a trip on the Tasman Glacier. Skiing on the Tasman Glacier seems to have really gone off this year with lots of folks having a great time.
The combination of that new snow meant backcountry activity picked up again, and the public observations started rolling in too. I monitor every single public observation that comes in over the season, a nice thing to appear in my inbox each day to remind me that people were still having a blast in the backcountry. I was also super impressed to see a few parties reporting avalanche incidents where they were caught. I thank those who contributed these observations, anonymous or not, as they are valuable sources of learning for various groups recreating in avalanche terrain. In one case, a group member shared his amazing story with us, this can be found here.
Another exciting part of my winter was enrolling in Avalanche Risk Management Level 5, known to many by its old name 'Avalanche Stage 1'. While my day-to-day role as the Partnerships Advisor Alpine at MSC doesn't involve forecasting or on the ground avalanche assessment, it makes sense to learn more about this topic, and through the same pathway that many of our country's ski patrollers, mountain guides, heli-ski guides and conservation staff have done.
The course was enlightening, not only for my own knowledge on avalanches and snowpack, but also into how those in the industry approach managing avalanche hazard and tackling the challenge of keeping their guests, clients, co-workers and themselves safe. You quickly gain an appreciation for the long hours, changing environment, and mental stresses they work through every day. I also got to witness more examples of passionate educators in the avalanche space. We are very lucky to have such great teachers on the subject here in New Zealand with a massive amount of international experience. Many took advantage of that this year, as it sounds like avalanche courses were very well attended. If you haven't done an Avalanche Awareness or Backcountry Avalanche course yourself, make sure you sign up for one next year so you'll have the skills to safely explore the backcountry in winter. It WILL make all the difference, and you have some great provider options out there! You can find a list of providers using MSC learning material here, and our taster Online Avalanche course here.
From an MSC perspective, winter 2020 was still a massive success. Our changes to the website were well received, and we've even been nominated as a finalist for the Designer's Institute of NZ's Best Awards for the site development. Once again, we've got a new record number of public observations (over 200 for winter at time of writing), and we've had a number of great media pieces come out based on information coming from these observations. Our NZAA Instagram page gained over 45% more followers with our new approach of "forecaster lead content" and the feedback has been awesome on this change. And all of this wouldn't have been possible without our awesome avalanche forecasting team who powered through a year of uncertainty to provide excellent forecasting once again throughout our 12 regions. Overall, we're thrilled with how winter has gone (though wouldn't have turned away more snow) and can't wait to see what 2021 holds for us!
While I am wrapping up winter here in this little piece, one thing I want to make clear is that avalanche season is certainly not over. Over 40% of avalanche fatalities since 1998 have occurred from November to April here in New Zealand. If you are starting your early season tramping, getting out hunting in the hills, or most importantly alpine climbing over the next few months in particular, make sure avalanche hazards are part of your thinking. While avalanches may not be as common or as large in general at this time of year, they can be just as deadly if you are in high consequence terrain.
For those in the Southern Alps, we will be forecasting for the Aoraki/Mt Cook area all year round as usual, and those details may be useful for making plans in neighbouring regions as well. Likewise, if you see an avalanche, want to report on snow or route conditions (think shrunds, snow bridges, even significant snow remaining on a track), or see a major rockfall event, please submit an observation at avalanche.net.nz. We would love to see them, and it's a great way to ensure your community stays informed on what's going on out there.
---