Each summer thousands of hikers and walkers enjoy the country's diverse tracks on offer. Unfortunately, injuries happen, and when we get hurt it affects our family, friends, workmates and many others around us too.
The good news is that nearly all of these tramping-related injuries are preventable. If we can see it coming, we can stop it from happening.
---
Abbie's Story on the Tongariro Alpine Crossing
Abbie Law was faced with the reality of making a tough decision in harsh weather while tramping with her partner and friend on the Tongariro Alpine Crossing (TAC). Speaking up can feel awkward when tramping in a group, but Abbie wishes she had done that before attempting the multi-day hike.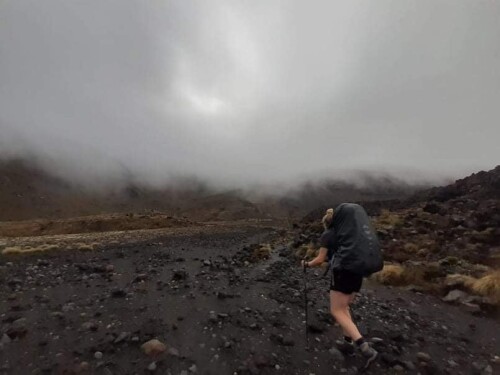 It was meant to be the couple's completion of their seventh Great Walk. But the TAC can be unforgiving when the weather turns, and Abbie says they are proud they made the right decision to turn back despite the feeling of disappointment. 
To know each of your tramping partner's limits is to know that you can make a well-informed and safe decision when out on New Zealand's tracks. When planning a tramp – it pays to think about risks that might pop up and figure out the best ways to manage them.
Read her full story
---
Five tramping and hiking tips for staying safe
---
1. Choosing a track that suits everyone's abilities
Find a track to suit you in Plan My Walk
2. Check the weather and be prepared for it to change
Weather can make or break a trip so it is one of the most important things to consider when going into the outdoors. No matter what the weather is, it will impact your trip. New Zealand's weather changes fast so you should be prepared to encounter any weather on your trip.

Before any trip, check the weather on the

MetService

website. If there is bad weather forecasted, think carefully about whether your trip will be safe and consider changing or cancelling your plans. Pay careful attention to weather watches or warnings in the area you're planning on visiting.
3. Always take a rain jacket and warm clothes, and extra food
Any trip, even if it is short or easy, needs preparation. Packing the right things makes trips safer and more enjoyable.
4. Tell someone where you're going
Telling a trusted person your trip details and when you expect to be home is an important planning step.

We all want our trips to go as planned – but sometimes they don't. If you got hurt or lost on your trip who will know and how will you get help? Share your plans with someone you trust. Tell them where you are going and when you will be back. If they don't hear from you by an agreed time, they should call 111 and ask for the police.

PlanMyWalk.NZ

assists trip planning by collating all of your trip information ready for you to send to group members and trusted contacts.
Learn about communication device options
5. Stay together and make decisions as a group
The best way to enjoy your experience in the outdoors and make it home safely is to look out for one another. Eat, drink and rest, stick with your group and make decisions together.

While on the track, discuss how everyone is feeling. If someone is struggling, don't keep going – have a break and consider changing plans. Make decisions together. It's important that all group members agree to changes in the planned route or transport arrangements.
Learn about skills while tramping
6. Preventing an injury
Most injuries occur on uneven or loose terrain, and of those injuries, smaller falls and slips make up the majority and can be far more common. Four tips to preventing these injuries:
Warm up and stretch before you set off
Consider using walking poles
Watch where you place your feet
Wear hiking boots for support on uneven ground
---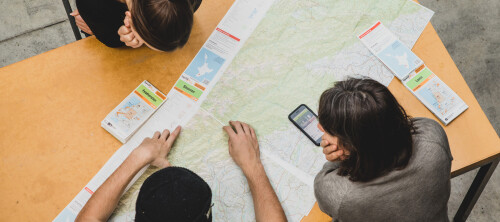 Further support
Plan My Walk

can help those planning their next adventure through each of these steps by supporting the search for a suitable track and checking for alerts, checking the forecast and weather alerts, an interactive gear list; and all of this can be sent to group members and a trusted contact. Visit Plan My Walk or get it from your app store.



About 'Have a hmmm'