Weather
New Zealand's changeable weather conditions frequently catch out the unprepared. With careful planning and smart decision making in the outdoors, you can be ready for all possible weather.
Watch how to be aware of the weather
---
What's the risk?
Each type of weather condition presents its own unique challenges
Wind can be far more dangerous than rain when travelling along the tops. The wind is usually worse in exposed places, so if it's blowing a gale, check the map and avoid high ridges.
Sun in NZ is extremely harsh, causing dehydration, sunstroke and sunburn. Although it may not always feel hot when you are up in the mountains, ensure you always wear sunscreen even on overcast days, wear a hat and sunglasses, and cover your body.
Snow can fall at any time of year, particularly in the South Island and higher mountains of the North Island. If there is significant snow around, only proceed if you have experience with crampons and ice axes (and are carrying them with you) and be sure to check the NZ Avalanche Advisory before leaving.
Rain affects river levels and makes the track more slippery. It also contributes significantly to landslides, so proceed with caution.
---

How to prepare
Check the weather forecast
It's imperative that you check the forecast as well as any weather watches and warnings for your region. Always check the mountain and rural forecasts for the region you're going as they can be quite different than an urban forecast for a major town or city. Watch how to be aware of the weather.
Check the weather regularly right up until your trip and change yours plans if conditions do not suit.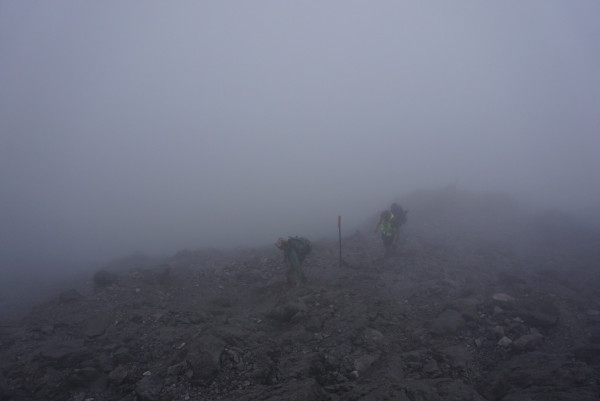 Prepare for all possible conditions
Be prepared for any weather by taking the right equipment, clothing and having backup plans if conditions change.
Always take warm + waterproof layers - have them handy in your pack to keep yourself warm and dry. Learn more about how to pack for the outdoors in our Supplies Section.
Learn about where you are going - if there are bridges, alternative routes and exposed areas you need to consider.
Pack an emergency shelter - you might end up staying an extra night out
---
While you are out
Learn to observe the weather
When you're out you must consider what effects the weather will have on your trip, one of the best ways to do this is to keep an eye on what's going on around you. If the weather does change for the worse, you need to decide if it's significant enough to alter your plans.
High-cloud signs
The wind that you experience is affected by the landforms around you. It may be quite different from the general wind flow associated with the pressure system. You can get some idea of the strength and direction of the general wind flow by observing cloud movement.
Movement of the highest cloud is often difficult to see. Wispy, cirrus clouds, which look like mares' tails or streamers, indicate strong, high-level winds and are often the first sign of bad weather.
Northerly winds at high levels are usually a sign of bad weather. If a southerly front with associated bad weather has passed through, southerlies with cumulus clouds (fluffy, isolated shapes in a blue sky) indicate a settled period in which you might find a suitable weather window to 'get outdoors' within.
Low-cloud sign
The gradual thickening and lowering of the cloud base is an ominous sign. The sun or moon becomes dim or watery as it gradually becomes obscured by the thickening cloud. 'Hogsbacks' (smooth, lens-shaped clouds) which form over mountain tops or immediately lee of the tops, are associated with strong winds at that level. As bad weather approaches, they usually become bigger. This would suggest that you probably need to revise your plans for the next day.


Adjust to the conditions
Staying an extra night out
Changing your route to avoid river crossings, avalanche routes and exposed ridgelines
Heading home and planning to return another time.
---

What to do next
Continue your preparation with our online resources, there is still plenty to learn to ensure for a safe and enjoyable trip!
Explore our resources
Get more skills |

Navigation, River Safety and more essentials in our

Skills Section
Watch our how-to videos |

There are plenty more and useful tips in our video section
Plan My Walk app |

Use our

free

planning tool

to choose tracks, get alerts, build a gear list and share your plan with others before you go.
Read our stories