Have you tried The Tongariro Alpine Crossing?
The Tongariro Alpine Crossing is one of the most incredible day hikes in the world. Although beautiful, it can be dangerous if you are not fully prepared to enter an alpine environment. Extreme weather, terrain and distance have resulted in this track having the highest number of search and rescues for trampers in New Zealand.
We have launched a video to help you learn how to walk the Tongariro Alpine Crossing.
Watch our video as it takes you through the entire track and shows you how to prepare for a successful day out so that you make it home safely.
---
The Tongariro Alpine Crossing, Tongariro National Park, 19.4Km one way | Intermediate Level
Some key learnings in this video
Assess the weather before you go and on your walk:

The track is notorious for its mixed bag of weather conditions, all that can be experienced in one day. On good weather days you will be exposed to the harsh sun, so make sure you wear sunscreen, a hat and sunglasses. On bad weather days, there could be heavy rain, strong winds, snow, or freezing temperatures. Check the conditions before you go and either postpone your trip or try another track.

Take supplies and regular breaks: Leave early in the morning and pack enough water and food for a long day in an exposed area. We show you some great stop options on the track in the video. It also pays to speak up in a group, read a story from a walker.
Tread with care to prevent a fall:

The descent to Emerald Lakes is a common tricky area for hikers. Wear appropriate footwear and use descending techniques shown in the video to give you a stable and safe approach.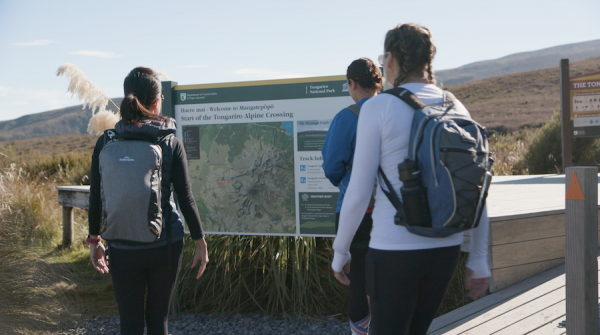 ---
Get the knowledge before you go
Common questions answered
How long is the Tongariro Crossing? The total track is 19.4km one way and takes approximately 7-8 hours in summer and 9 hours in winter. You can view a full run-through 3D map and timings in the video.
Where can I get the Tongariro Crossing Weather? You can check the MetService weather in Plan My Walk as well as DOC track alerts for the area. You can also get weather from NIWA and discuss the latest conditions at the staff at the local DOC Visitor Centre in Tongariro National Park.
What are transport options to the track? You can find shuttle options, guided walks and other information on the Tongariro Alpine Crossing website.
What does the Tongariro Alpine Crossing cost? It is free to walk, you simply need to book transport to get there/back, and possibly accommodation depending on your travel plans.
How do I walk the Tongariro Alpine Crossing in winter? Watch our video to learn more about the extreme weather on this track. In winter, it is only suitable for experienced winters hikers with appropriate winter equipment like ice axes, crampons and helmets. There are guiding options as well as more information about winter conditions on the Tongariro Crossing website.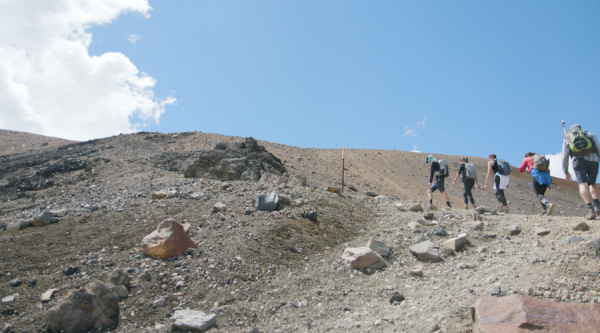 ---
If you're interested in trying this track
Start building a trip plan in Plan My Walk – it helps you learn more about the track, see track reviews from other walkers, build a custom gear list, assess weather and alerts and build a trip plan to share with trusted contacts or others in your group.
Sort your clothing and equipment – you've seen the items mentioned in the video, assess who is going and what everyone needs. Learn more about essential supplies and gear
Assess yourself and your fitness – it's a whole day of walking, with steep terrain. With added strength and fitness, you will enjoy the walk more! We have info that introduces you to some great tips for tramping/hiking skills.
Look at and book your accommodation, transport and what other plans you want to add to in the region. Try the below list of places for further info: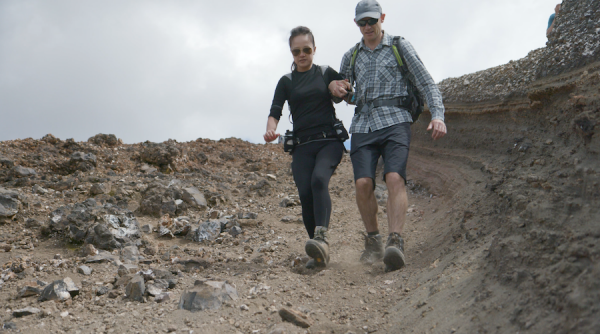 ---
Unsure it's right for you?
Look at all the walk options in the area of Tongariro, Turangi, Taupo, Rotorua and Whakapapa and National Park! There are plenty to choose from. Or try other nearby tracks right next to the track such as Taranaki Falls or Tama Lakes. Both are great alternatives with stunning scenery.
---
Made it back safely?
Register and leave a track review in Plan My Walk app here, you can leave a review of the track, or the huts individually, loading in photos helps others see the conditions too!
Share this video with your friends, knowledge shared is powerful! Give us a tag on social media or email us to share your experience.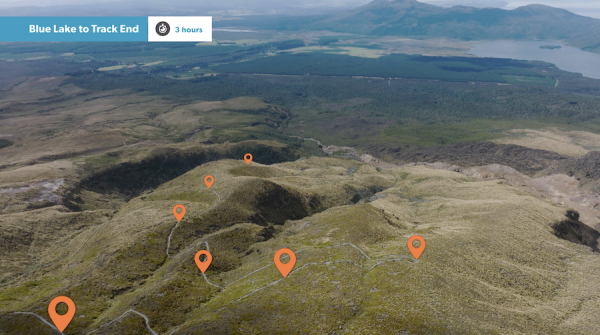 ---
About this video
The video is a part of MSC's award-winning Tramping Video Series showcasing 20 tracks that provide track-specific advice.
This 2022 updated video version is one of eleven proposed solutions to improve safety on the Tongariro Alpine Crossing made by an independent Issue Specific Advisory Group established in 2018. Led by MSC, with the support of Department of Conservation (DOC) and Ngāti Hikairo ki Tongariro, the group suggested that subsequent versions should be translated into other languages. It also suggested replacing outdated footage and better demonstrating the length of hike, successful descent techniques and reinforcing alternative trip options. Turn on subtitles for more language options.


Thanks to everyone involved in making this video possible:
Department of Conservation | MetService New Zealand | New Zealand Police | Ngāti Hikairo ki Tongariro | LandSAR | NZ Search and Rescue | TourismNZ | Tourism Industry Aotearoa | Visit Ruapehu | Love Taupo
You can learn and Explore our data and learn about what drives our efforts, if you want to know more, get in touch with us on info@mountainsafety.org.nz
If you have done this track and have an interesting story to tell, get in touch with us, or share and tag #MakeItHomeNZ #ShareYourStoryNZ.